Welcome to our BLOG! Where we can share information about the Chuparosa Inn!
The Inn offers a wonderful environment for couples with a romantic heart, nature lovers, hiking and biking enthusiasts, or anyone who enjoys meeting others in a relaxed atmosphere.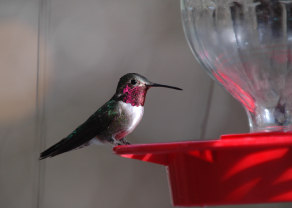 Birds - Commonly seen are five to seven species of hummingbirds including the Broad-billed, Magnificent, Black-chinned, Costa's, Blue-throated, and Broad-tailed. Mexican Jays, Acorn Woodpeckers and Nuthatches are easy to spot. Rarer species including the Elegant Trogon, Arizona Woodpecker, and Yellow-eyed Junco appear at the Inn to draw birders from all over the world.
Banding - The Chuparosa Inn is helping scientists research hummingbird distribution by hosting a Hummingbird Monitoring Network site. The Madera Canyon banding site is one of the 15 research stations located in southeastern Arizona, southern California and British Columbia.